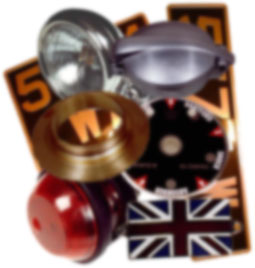 Vintage Supplies Ltd are specialist suppliers of classic car parts, fittings and accessories for the restoration and maintenance of classic vehicles. We offer a wide range of products, many commissioned especially for us, for all classic, antique, and old-timer cars, with particular emphasis towards veteran and vintage car parts.
We are also able to provide supplies and services for other areas including the classic and kit car builder, vintage and classic commercials, tractor and stationary engine... some items even find their way on to boats and aeroplanes!
Our range covers quality coachfittings and body parts, trimming and upholstery, cloths and beadings , together with many specialised rubber, mouldings, electrical, lamps, switches, wipers and cable, and period style re-manufactured accessories.
The web site has a secure on line shopping and ordering facility, backed with the benefit of help and assistance by contact form, email, or telephone call to people with enthusiasm and years of knowledge.
Practically all of our range is supplied direct from our extensively stocked warehouse in Norfolk: unlike many we don't use drop-shipping or similar schemes to reduce our overheads at your expense. All orders are carefully packaged for delivery worldwide.